I always look forward to World Book Day, which this year takes place on 2 March (this Thursday).  I love to see all the kids dressed up as their favourite book character (or, failing that, the character they happen to have the right clothes for in the dressing up box).
It's even more exciting for me when someone dresses up as one of MY characters. I have already heard about one Hairy Fairy and one Isabella planned for this year. I look forward to seeing (and hopefully sharing) the photos later this week.
In the meantime, here's the lovely Polley, who dressed up as Isabella in 2016.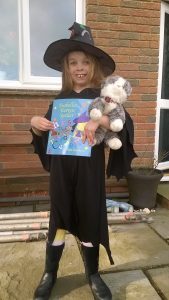 For me, World Book Day will actually be more like World Book Week this year, as I am off to the lovely Tolworth Junor School in Surbiton on Thursday 9 March for storytelling and craft activities with their nursery and reception children. I'm really looking forward to it!