I thought as it's World Book Day, I'd share five of the picture books I most wish I'd written.
So (as Dermot O'Leary would say, were he here), in no particular order:
1: Once Upon A Time by John Prater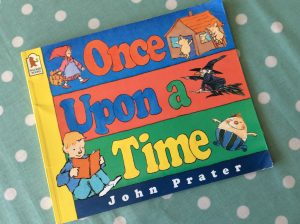 Why do I wish I'd written I?
Because it's so clever. I love the subversiveness of picture books where the words tell a story, but the pictures tell so much more, or even a different story altogether. We're Going on a Bear Hunt, by Michael Rosen and Helen Oxenbury is a prime example, but 0nce Upon A Time takes it to the nth degree. The words tell of a mundane day at home with 'Not much to see. Not much to do'. Meanwhile, in the pictures, every nursery rhyme creature you've ever heard of is running amok. Fabulous!
Look out for number 2 on my list later today!