For World Book Day, I am sharing five of the picture books I most wish I'd written.
This is the third.
3. Who's Afraid of The Big Bad Book? By Lauren Child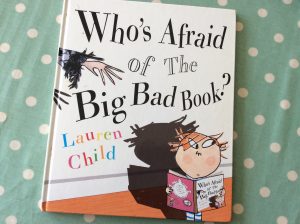 Why do I wish I'd written it?
Well, I do have a soft spot for books about books. Julia Donaldson and Axel Sheffler's Charlie Cook's Favourite Book is another lovely one. But what I love about Who's Afraid of The Big Bad Book? is that it's laugh-out-loud funny. Lauren Child is so witty, subversive and clever. My favourite bit is where our hero, Herb, is trying to climb up the text to escape, but 'Some of the words were a bit weak and the whole lot started to wobble'. I can honestly say, I know that feeling!