To mark World Book Day, I have been sharing five of the picture books I most wish I'd written.
This is the final one of the day:
5:The Day the Crayons Quit by Drew Daywalt and Oliver Jeffers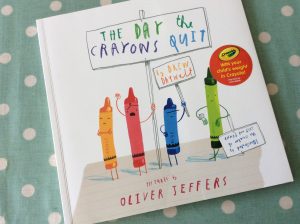 Why do I wish I had written it?
I do like a concept book. And this is a great one. It tells of the story of Duncan, who just wants to do some colouring . But when he opens his box of crayons, all he finds is a pile of letters – each one written by a different coloured crayon – all saying the same thing, that the crayon has quit. Some of the crayons resent being overworked, others feel overlooked. Each of the letters reveals an individual personality. All of them are hilarious. The child-like illustrations by Oliver Jeffers are wonderful too. I would love to have written this original, clever, funny book.