NEW FOR AUTUMN 2018!
A rhyming adventure in The Dark!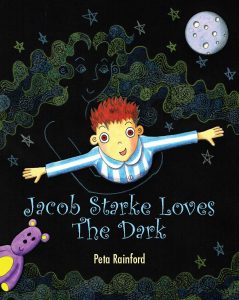 Are you afraid of THE DARK? Jacob Starke is. Jacob Starke is TERRIFIED! Until, that is, he gets to meet The Dark face-to-face and shares an amazing adventure through the wonders of the night sky.
Jacob Starke Loves The Dark is a charming rhyming picture book about being brave, outer space, loving plants and animals and the importance of Dark Skies. An important environmental issue is tackled with beautiful illustrations, humour and a light touch.
A rhyming picture book for children from 3 to 8 years, with colourful pictures on every page. An engaging story to listen to or look at at bedtime, or a good book for early readers, with lots of talking-points around the environment and other issues. Paperback, 32 pages.