NEW FOR AUTUMN 2018!
A rhyming adventure in The Dark!
'The book is just beautiful, both the rhyming words and the illustrations. It is exceptionally engaging and I'm sure that children will not only enjoy a fab story they will also learn a lot too about what the dark does and why nature needs it.'
Whispering Stories Book Blog
Available to buy now from My Shop or from Amazon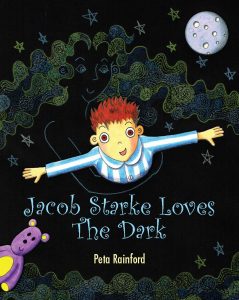 Are you afraid of THE DARK? Jacob Starke is. Jacob Starke is TERRIFIED! Until, that is, he gets to meet The Dark face-to-face and shares an amazing adventure through the wonders of the night sky.
Jacob Starke Loves The Dark is a charming rhyming picture book about being brave, outer space, loving plants and animals and the importance of Dark Skies. An important environmental issue is tackled with beautiful illustrations, humour and a light touch.
A rhyming picture book for children from 3 to 8 years, with colourful pictures on every page. An engaging story to listen to or look at at bedtime, or a good book for early readers, with lots of talking-points around the environment and other issues. Paperback, 32 pages. 
This is a fun and charming review:
There are more great reviews here.