'The Niggle is a smashing children's story with a fantastic message about being brave and not letting your anxieties niggle away at you so that they prevent you doing what you want and need to do.' Linda's Book Bag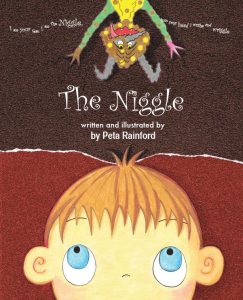 The Niggle is available to buy from My Shop or from Amazon
The Niggle tells the story of Joe Jackson, a little boy who has never felt fear. Until the day a miniature monster swims in his ear! The monster is the Niggle, a tiny terror, who whispers worries in Joe's head and makes him afraid. Will Joe Jackson let the Niggle win? Or will he learn to overcome his fears?
The Niggle, through humour and rhyme, tells children aged between five and eight that it's OK to feel fear. In fact, you can't be brave if you don't. I hope it is a reassuring (though not too didactic) message for young children.
Here are some more great five star reviews for The Niggle:
5 out of 5 stars An age appropriate look at fears and how to conquer them
By Nerdish Mum
I absolutely loved The Niggle, it is so well thought out and so well written. The rhyming really flows as you are reading and it makes everything sound good whether you're reading it out loud or in your head… The artwork is absolutely lovely and really matches the tone of the story.
5 out of 5 stars Imaginative and beautifully put together
By Sir Readalot
Through humorous rhymes and beautiful illustrations by multi-talented Peta Rainford, we learn about a little boy called Joe who knows no fear – until, that is, an incident occurs… This is an imaginative and well-written story which will enthral your little ones while also teaching them an important message. Highly recommended!
5 out of 5 stars Conquer Your Fear!
By Molly Neely
This story reminds us all, that experiencing life can be a little scary, but fear should never stop you from trying new things!… I gave this book a well deserved 5H rating. Between the perfectly crafted story and the fun illustrations, I just know you will do the same.
5 out of 5 stars Smashing for those anxious children
By Linda's Book Bag TOP 1000 REVIEWER
The Niggle is a smashing children's story with a fantastic message about being brave and not letting your anxieties niggle away at you so that they prevent you doing what you want and need to do. I thought the way in which Joe ages from two to six and goes from fearlessness through self doubt back to confidence was inspired, as the story gives an accessible and identifiable and positive message to children (and indeed I think some adults could benefit from this book too)… I'm really impressed by Peta Rainford's children's books and can recommend The Niggle most highly.
5 out of 5 stars This is a very helpful book, particularly for children who are needing help combating their own fears
By Whispering Stories Book Blog TOP 500 REVIEWER
This is a very helpful book, particularly for children who are needing help combating their own fears. I especially love how the author, through the voice of Resolve, talks to the reader about being strong.
5 out of 5 stars A really fun read, a great read aloud book with children
By Yvonne Me and My Books
I loved this story, it is one of those stories that just has to be read out loud, it is a rhyming tale that I think children will love. It does have a message about how fear can stop you doing things, but also there is a positive aspect to it as well. It also has a nice touch humour in it as well There is a good balance and the nasty Niggle does not have it all his own way, so it ends on a good note. This book is written and illustrated by Peta and she has matched words and pictures very nicely, they complement each other. I would definitely recommend this book for children in the 5-8 year age range. A good book to sit and read with them.