Covid 19 update: although in-person school visits are not really possible at the current time, I am happy to do an on-line author visit, tailored to your school, either live or pre-recorded. Please contact me at petarainford@gmail.com if you would like to know more.
I do love to go into schools to read my books and work with the children on related art and literacy projects.
"Thank you for a fantastic author visit during National Storytelling Week. The Year 1 children loved exploring their ideas through drawing, and their pictures are now in the Storytelling Corner for when they want to tell a story."

Su Meredith, Barton Primary SchoolSchool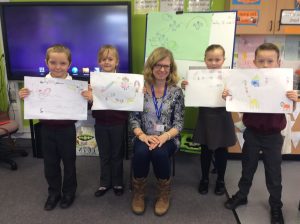 School visits have given me the opportunity to develop a number of fun projects and activities for children, based on my books. To give you an idea of what I do, I have produced the following resource packs, which I have called Peta's Book Bags. I would be delighted to come into your school to deliver one or more sessions based on Peta's Book Bags. Or you are welcome to use these resources in your own lessons. Click on the links below to download the pdfs.
Peta's Book Bag: Illustrating with letters
Peta's Book Bag: Generating narrative through illustration
If you use any of Peta's Book Bags, do please get in contact and let me know what you think.
"The children thoroughly enjoyed their session with Peta. They had the opportunity to develop the language needed for writing and sequencing narratives. They explored the importance of detail and description in order to guide the imagination of an audience. This was followed up in class with the provision of a storytelling area; applying skills leant. Peta pitched the session well and the children were keen to share her story; using characters and setting as a starting-point for their own ideas. An engaging experience for all!"

Nikki Burke, Barton Primary School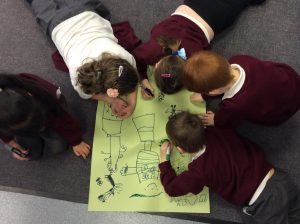 My usual rates are £100 for a morning session, £75 for an afternoon, or £150 for a full day. If you would like me to come into your school, do please email me at petarainford@gmail.com.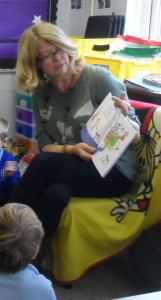 Teachers reported children were inspired that being an author / illustrator was a real possibility and we believe this impression will remain with the children, so it was aspirational for them.

Victoria Stiles, Newport CofE Primary School