Isabella's Adventures in Numberland is available to buy from My Shop or from Amazon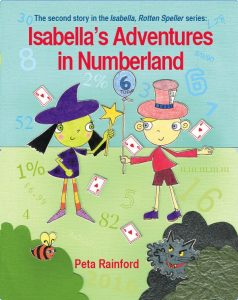 Isabella is back for her second adventure! This time the accident-prone little witch falls through a hole in the ground and lands in Numberland – a place where nothing quite adds up (because all the numbers have disappeared!) She makes new friends, encounters an old enemy and, though the odds are against her, finally saves the day.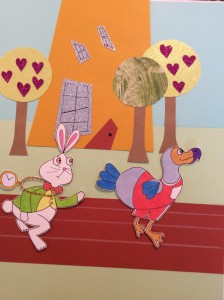 YOU CAN COUNT ON ISABELLA!
Readers of Lewis Carroll's Alice's Adventures in Wonderland will see some parallels between Isabella's Adventures in Numberland and that wonderful, crazy children's classic.
I hope that fans of Isabella, Rotten Speller will also love Isabella's Adventures in Numberland. Again, I have tried to create a book that buzzes with vibrant, funny pictures and interesting, rhyming words. I hope it will encourage young children to think about the importance of numbers and how numbers are used in our everyday lives, while at the same time enjoying the story and having a good giggle!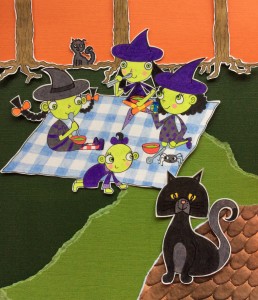 Isabella's Adventures in Numberland is available to buy from My Shop or from Amazon
Reviews of Isabella's Adventures in Numberland:
From Linda's Book Bag
What a smashing children's book Isabella's Adventures in Numberland is.
I have to comment immediately on the quality of the illustrations. They are actually quite childlike and naive in style so that I think they will appeal to children instantly. There is plenty of colour and a lovely range of creatures from bugs to a dodo, giving lots of discussion points for parents and teachers to share with youngsters.
I really liked the way in which Isabella is a strong female and able to look after herself whilst making new friends – such important messages for children. Similarly, the story has a great plot with Isabella encountering evil that is outwitted by thinking, rather than force, so that children receive their happy ending, and positivity is rewarded.
The focus on rhyme within the narrative, and number as a central point to the plot, gives huge potential to enhance children's literacy and numeracy whilst enjoying a super story in its own right. I also really liked the nods to Lewis Carroll through the white rabbit, playing cards, the tea party and the idea of being late and even to Macbeth with the cauldron and spells. This would be a lovely way in to sharing classic stories with children later. Similarly, other aspects could be developed beyond the simple enjoyment of a story well told. Cooking and measuring could be turned into games as a result of reading Isabella's Adventures in Numberland and I think it's a super book for children aged around 3-6. I really recommend it.
Isabella's Adventures In Numberland is the second book in the Isabella, Rotten Speller series, but can definitely be read as a stand alone.
The story follows Isabella as she goes on a walk and falls down a hole, ending up in a very Alice In Wonderland-esque world with a white rabbit and a tea party. In this world their numbers have gone missing and Isabella helps to save the day with a very clever play on words.
The story is written in rhyme and is very easy to read, however the author hasn't shied away from using "grown up" words which I really like.
The artwork is absolutely beautiful in a very naive and childlike way and it matches the story perfectly.
I really enjoyed this book and I enjoyed reading it to my youngest Nerdling (aged 3) who really enjoyed the pictures and looking at all the numbers. I'll definitely be going back and finding the first book in the series.
I gave this book 5 Stars.