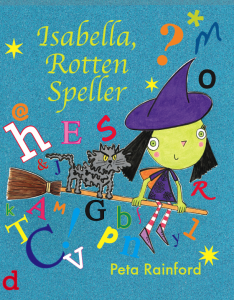 Available to buy now from My Shop or from Amazon
Isabella, Rotten Speller is, I hope, a winning combination of educational and daft.
It is set in Rhyme, a place where everything and everybody is made of letters and words – so I hope that children just beginning to learn their letter shapes – as well as more advanced young readers (and even adults, for that matter!) – will enjoy spotting all the letters I've used in the pictures.
It has been a fun, but time-consuming, challenge; creating people, animals, houses, trees, insects and a whole lot of other things entirely from letters.
Can you imagine a place like that?
Where every dog and every cat,
And every owl and every bat,
And even the children, come to that,
Were made of letters and sometimes words?
I know, the whole thing sounds absurd.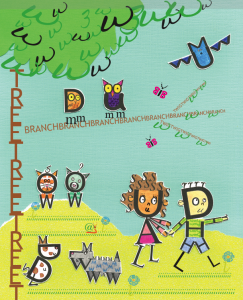 (By the way, how many letter-frogs can you find lurking in the 32 pages of this book?)

But back to the plot: all is happy in the town of Rhyme until the unexpected arrival of a little witch…
… the witch's name was Isabella;
A lovely girl but a rotten speller.
So when she tried to cast her spell,
Things really didn't turn out well
Chaos ensues as Isabella's rotten spells and rotten spelling wreak havoc on the word-based nation, until…
But I don't want to spoil it for you! You'll have to read the book to find out what happens next – though I can assure you that a happy ending for (almost) all is guaranteed!
A rhyming picture book for children from 3 to 8 years, with colourful letter-based pictures on every page. An engaging story to listen to or look at at bedtime, or a good book for early readers. Paperback, 32 pages.
Available to buy now on-line from My Shop or from Amazon. Click on image below to read reviews.