I thought as it's World Book Day, I'd share five of the picture books I most wish I'd written.
Here's number 2:
2: The Snail and the Whale by Julia Donaldson and Axel Scheffler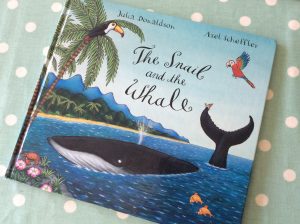 Why do I wish I'd written it?
It's the favourite Donaldson/Sheffler book in our house for all sorts of reasons. But the reason I wish I'd written it, is for the quality and ambition of the language. I so admire the description, the rhythm, the rhyme, the alliteration: 'These are the waves that arched and crashed,/That foamed and frolicked and sprayed and splashed.' It's a wonderful book to read out loud. And I love the audacity of a picture book that uses words like 'immensely' and 'towering'. It shows great confidence in the beauty of the way language sounds. Young children don't have to know what every word means to love it. It is like listening to music.