Woohoo! My new rhyming picture book, The Niggle, is officially launched today and is available   TO BUY now from Amazon.
If you do buy a copy, and enjoy it (I hope you do!) do please consider putting a review on Amazon – reviews really do help sales. Many thanks!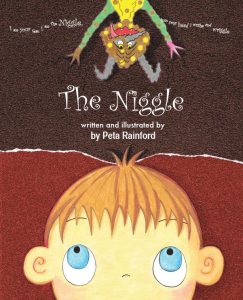 The early Amazon reviews have been lovely. Sir Readalot said:
"This is an imaginative and well-written story which will enthral your little ones while also teaching them an important message. Highly recommended!"
Brydie W said:
"… A surprising and enjoyable read, with an original take on a universal theme."
The Niggle tells the story of Joe Jackson, a little boy who has never felt fear. Until the day a miniature monster swims in his ear! The monster is the Niggle, a tiny terror, who whispers worries in Joe's head and makes him afraid.
Will Joe Jackson let the Niggle win? Or will he learn to overcome his fears? Read this rhyming picture book to find out. And remember: you can't be brave if you don't feel fear!