Nothing like a rhyming headline to perk me up in the morning – especially when it heralds the good news that a number of National Parks – Brecon Beacons, Exmoor and North York Moors – are now stocking my new rhyming picture book, Jacob Starke Loves the Dark in their shops. Woo hoo!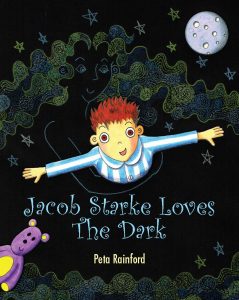 The reason for this, of course, is that  Jacob Starke Loves the Dark is all about the dangers of light pollution and the importance of Dark Skies, and the National Parks that are stocking my book are all known for their exceptionally beautiful Dark Skies.
Exmoor National Park (where I lived for a number of years, and once walked into a hedge when trying to get home from my next door neighbour's house at night without a torch, so I know how dark it is) and Brecon Beacons National Park are both designated as International Dark Sky Reserves, which means they have an exceptional quality of starry nights and a nocturnal environment that is specifically protected for its scientific, natural, educational, cultural, heritage and/or public enjoyment. North York Moors National Park has Dark Skies Discovery Sites at Danby and Sutton Bank National Park Centres plus Scarborough & Ryedale Astronomical Society Observatories in Dalby Forest.
So exciting to think that my book might encourage children to look at the stars from our National Parks.