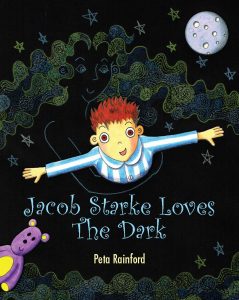 So totally thrilled by the wonderful review on the lovely Linda's Book Bag Blog! You can read the full review on the blog here, but I can't resist reproducing some of the (many) highlights below:
"It's absolutely brilliant and a must read with any child who is afraid of the dark."

"The quality of illustration in Jacob Starke Loves the Dark is outstanding. Even though many of the images need to be dark to support the text, they are still vibrant, beautiful and stunning. I loved the way so many animals feature, from domestic cats to turtles, especially as there fantastic messages about caring for the environment and the need to allow nature to experience darkness to thrive. Indeed, I think adults should read this book, never mind children, so that they can appreciate the environment more too."

"The way the illustrations personify the dark works flawlessly."

"The language in Jacob Starke Loves the Dark is fabulous. Not only does Peta Rainford maintain the rhyme scheme impeccably without straining the language to fit, she balances familiar and challenging language so well, meaning that the book is accessible for independent readers as well as improving their own vocabulary."

"I'd love to see a copy of this book in every primary school in the UK. I can see so many educational and emotional benefits from reading it with and to children."

"It's difficult to convey what a triumph I think 

Jacob Starke Loves the Dark 

is. It's a wonderful book and I cannot recommend it highly enough. Just buy it!"
If you would like to follow Linda's advice, you can buy Jacob Starke Loves the Dark here.