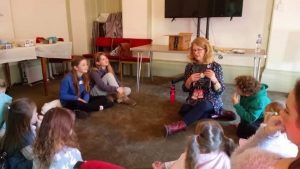 Well, that was fun. Exhausting. But definitely a whole lot of fun.
I am just trying to get back to some kind of normal after a whirlwind couple of weeks with the Isle of Wight Literary Festival. After last week's Schools Programme, this weekend was the Main Event: the Youth Zone, a children's festival, with talks and workshops from a wide range of authors and illustrators; as well as spoken word performances, storytelling,  junk modelling, science, rockets, exhibitions, competitions and a whole lot more. It was fab!
So pleased with the feedback from my two sessions. Great that my new book about fear of the dark and the importance of Dark Skies, Jacob Starke Loves the Dark, was so well received (phew!) and I was delighted by the woolly solar systems the children made in the workshop…
… not to mention the super superheroes that emerged from my session based on The Niggle the following day. The book, if you don't already know, is about resilience, and the children were encouraged to find the superheroes inside themselves. I think they succeeded!